5/20/20 UPDATE ON KARATE CLASSES, SUMMER CAMP, & UPCOMING SCHOOL YEAR
We're here at the time of virtual school coming to an end for the school year – what a ride it's been!
We all deserve big kudos, in my opinion, for making it out in one piece and with our families still in tact. Make no mistake, the psychological stressors have been huge, regardless of your individual circumstances – so pause to congratulate yourself for handling it!
This is Dr. Flury and I wanted to personally update you on our services moving forward, in light of the COVID-19 situation and phased reopening of the state.
1. Summer Camp
We will not be holding camp this summer. Many variables have gone into this particular decision, and it wasn't an easy one. We know that families who choose us for summer camp year after year will have to find other arrangements, and that those arrangements may not be as fitting for their children as our camp is.
However, in order to keep the high quality and high standards that we're known for, and that we want to provide for our members who trust in us, we are opening back up in our own phases – no full-day summer camp, but opening back up for evening martial art classes over the summer, then adding after-school back in the fall, and a return to full-day summer camp next summer.
(There is a possibility that in late June/July, we may hold a few week-long morning camp sessions – specialty-topic camps from 9-12 with early/late drop-off/pickup 7-1.  If this is the case, we will inform you of topics, dates, cost, and registration ASAP. But we will not be holding full-day, full-summer camp.)
2 . Upcoming School Year
While holding martial art classes this summer (starting June 8), we will also be working on reconstructing the after school program for the fall. With school districts considering part virtual, part-on site learning, we know the school year will look very different for students and parents – and we're working on how to best serve families with the new school format in the fall.
From holding daytime school at our facility on days the kids are to learn virtually, from picking up after school on on-site school days, to providing full homeschooling services (at our facility), we're looking at the entire gamut of possibilities that would best serve exactly what families will need.
If you know that your child will be attending school virtually, or part virtually/part on-site in the fall, and you will need services for your child — if you can't be with them on their virtual school days and/or can't pick them up on their on-site school days, or will need someone to be with them and facilitate their virtual learning — please reply and let me know what your situation is. This will help as we work to construct a program that will meet your needs (and your child's needs) in the fall.
3. Back to In-Person Karate Classes!
Our in-person martial art classes will reopen on Monday, June 8! We're so incredibly excited to have a firm date for resuming in-person classes and seeing everyone again!
(We had tentatively planned on reopening for on-site classes June 1, but with sanitizing supplies being hard to come by, delivery dates for some supplies will run into the week of June 1.)
Please recall what I mentioned in the last email: (1) We will have strict social distancing, sanitizing, and class size limitations in place; (2) you'll need to schedule your classes so that we can keep the class size limits in place (I'll show you exactly how to do this, it's super simple); and (3) we will continue virtual classes after June 8 for those who are not yet comfortable with returning to in-person classes.
Also concerning martial art classes, we have the awesome new equipment in that we told you about back in January, and that your child will absolutely LOVE! This is new equipment that has been in beta testing for a while and has now been released and we have 2 of the new units! Known as "2020 Armor", these give a readout on how hard your child can hit, how fast they can react, and with how much stamina they can perform.
It's like a real-life video game, with the students having so much fun and enjoying it so much that they work extra hard and their power, speed, reactions, and stamina/endurance improve dramatically! These will be up and running right when we start back to classes on June 8, and it'll be an absolute blast for your student!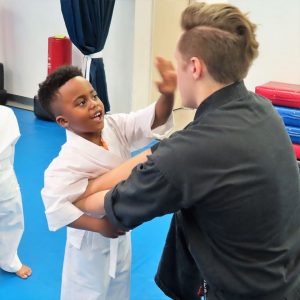 Be sure to take advantage of the private lessons that are available to your student right now! You may schedule up to two private lessons per week. The link to do that is: https://privatekaratelessons.as.me/
Email [email protected], or text (972) 641-4192 for any questions at all, or if you'd like your child's spot saved in our on-site or virtual martial art classes that start up June 8, and/or if you're interested in services for your child in the fall once the school year starts (even if your child's school district doesn't have their plan in place yet – if you can't be home with your child on their virtual school days, and/or won't be able to pick them up from school on their on-site school days, or if you'll need their virtual school days to be facilitated, let me know.  That way we can work with you to create the program you'll need for your child in the fall.)
Thank you and I'll talk to you soon!